Facility Use at Cameron United Methodist Church
Spaces within Cameron UMC are available for use by members, non-profit, and community groups when church activities are not taking place. We have worship spaces for large or intimate weddings, complete with a Bride's Room for her preparations. Our large social hall with attached kitchen is the perfect location for the reception, just steps away from the Sanctuary. The hall is also spacious enough for corporate, community, social or instructional meetings, whether you intend to serve a full meal or just provide snacks or appetizers. Smaller meetings rooms are available with tables and chairs or in a quiet livingroom-type arrangement. We also have a childrens room and nursery, a library and outdoor play area.
Our location near the Capital Beltway and Huntington Metro station provide easy access for your guests. Two large parking lots provide secure and convenient off-street parking.
The photos below provide a small taste of what we have to offer. Please call to arrange a tour and see these amazing spaces first-hand. Contacts and other facility use information are also below.
---

The Sanctuary

This dramatic space with vaulted roof accomodates about 390 people. It has a large organ, a piano and a wireless microphone system for services, meetings, rehearsals or whatever event you have in mind.

Social Hall

This large open space will accomodate about 200 at tables for a meal, or about 250 in seating for meetings. Curtains at the window darken the room for presentations or open for a bright and cheerful space. A stage area has a microphone sound system and a pull-down screen for displays.

To the right and left of the stage is the entrance to the kitchen with a walk-through, hot serving station.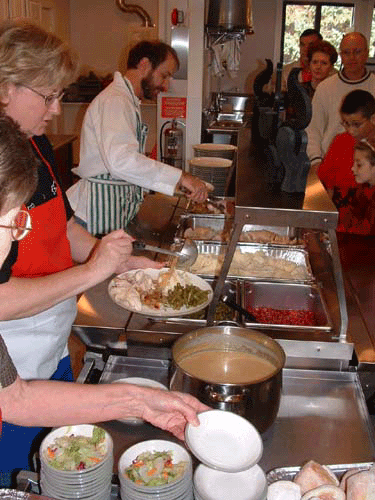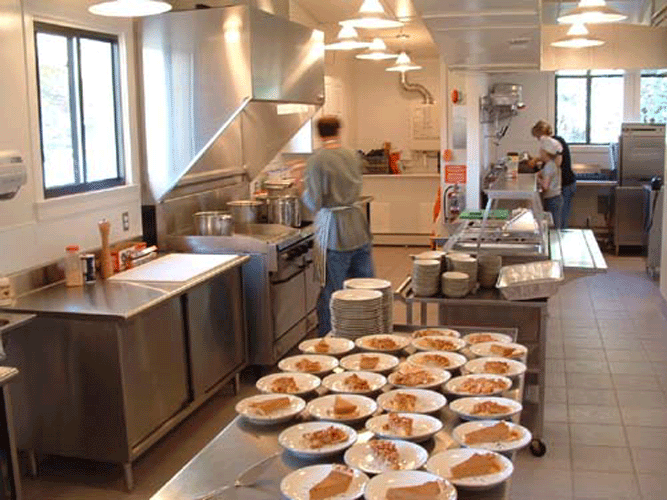 The Kitchen
A professional-size freezer, refrigerator, stove-oven, work tables/counters and sink system is available for food preparation, along with a full service of plates, silverwear, glasses, etc.
A separate dish return area directly from the social hall leads to a professional dishwashing system for easy cleanup.
The Chapel

For intimate worship and smaller weddings, the Chapel is available. It seats from 30-35 people and has a piano, altar and pulpit. A stain glass window graces the rear wall.



Meeting Rooms

We have a two rooms that offer a quiet livingroom-type environment such as this. Five other rooms are open and can be set up with tables and chairs for a classroom-type setting. These are located in the lower level underneath the social hall and kitchen.
Interested?
Please read our Facility Use Policy and Agreement that describes our guidelines for the use of our facility. Non-profit and community groups should complete this Facility Use Application Form. Cameron UMC organizations and members should should complete the abbreviated Facility Use Form for Cameron Organizations and Members.
If you are interested in having your wedding and reception at Cameron United Methodist Church, contact
Reverend Box.
Reverend Oliver J. Box
703-960-9505, ext. 22
oliver.box@gmail.com
Monica Bellebia
Church Office Manager
703-960-9505, ext. 21
cameronoffice3130@gmail.com